Lenmar AC/DC 2-Hour Battery Charger with AA Battery 4-Pack - $14.96 : comments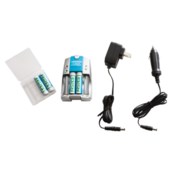 Stay powered and connected to your favorite electronics wherever you go with Lenmar's 2-Hour battery charger. Hi-Speed charger gives you the option to charge two or four AA or AAA batteries. Specially designed for rapid recharging of batteries for use in digital cameras, handheld PCs, FRS radios, toys, and more.
Use coupon code ALNOVEMBER9 for 15% off $100+, 20% off $150+.
Get This Deal »
Lenmar AC/DC 2-Hour Battery Charger w/4 AA Batteries