Snowboards.net Products and Deals
At Snowboards.net, each individual has committed him or herself to the products we sell in a sport that we love. We focus our efforts on our customers to assure they are happy. Service, Speed, and Satisfaction are the priorities of our entire team, which makes Snowboards.net one of the best online snowboard shops you'll find. However, we are more than just snowboards. Whether our customers are looking for snowboards, boots, bindings, goggles, helmets, or snowboard clothing and apparel, they are sure to find everything they need and more.
Snowboards.net is having a winter clearance sale and all boards, boots and bindings are 20% off!
Great deals on Burton, K2, Ride, Vans gear and footwear. We found lots of deals at even larger discounts:
Shipping is free on orders of $99 or more.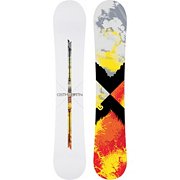 Get 20% off Burton snowboards, boots, gloves, pants, and jackets at Snowboards.net.
Most items include free shipping.
Get This Deal »
WINTER SALE! 20% OFF All Burton Snowboard Equipment!